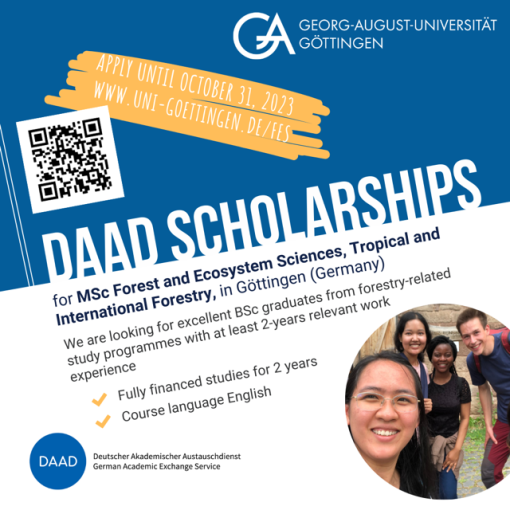 Dear alumni, colleagues and friends,
I would like to ask you to spread the word to any suitable candidates you know. Graduates with a Bachelor's degree and at least 2 years' of work experience can apply this September (more information below) for next years program.
Best Simone
DAAD scholarship programme for Master's programme Forest and Ecosystem Sciences, specialization in "Tropical and International Forestry" in Göttingen (Germany)
We invite you to apply to the DAAD scholarship programme for our Master's programme Forest and Ecosystem Sciences, specialization in "Tropical and International Forestry" at the Georg-August-University of Göttingen, Germany.
Features of this Master's programme:
Completely taught in English
Focus on options for ecologically sound management of different tropical forest types. By understanding the most important ecological and economic processes, the broader context of forest utilization and the key policies related to forestry, you will be able to analyze and monitor the ecological consequences of the utilization of the forest and to design well-adapted silvicultural systems taking their economic and long-term consequences into consideration.
Students' project abroad: With your student colleagues and experienced teachers, you will work on an interdisciplinary forest management plan in a host country. The research regions of recent years have been Indonesia, Uganda, Laos and Myanmar.
Besides compulsory courses, we offer a large range of elective courses.
Participation in current research projects is possible.
Further information: http://www.uni-goettingen.de/fes
For this programme, some DAAD scholarships are available for excellent graduates from forestry-related study programmes. Candidates must have at least 2 years of relevant work experience and must come from a developing country.
The DAAD (German Academic Exchange Service) will fully finance 2 years of study, including living allowances, travel costs and a German language course.
About the Georg-August-University of Göttingen, Germany
The University of Göttingen is the largest and oldest university in the federal state Lower Saxony. Its 13 faculties offer a comprehensive range of subjects in the natural sciences, humanities, social sciences and medicine. Göttingen past and present is characterised by the quest for excellence in science, scholarship and education. Its success is reflected by the long list of Nobel Prize laureates associated with Göttingen, including Max Born, Manfred Eigen, Werner Heisenberg and Stefan W. Hell.
The Faculty of Forest Sciences and Forest Ecology is the only autonomous forest faculty in Germany. The scientists from about 22 different forestry research departments are active in national and international research projects.
Webinar about master's programme and DAAD scholarship
On Thursday, September 7, 2023 at 10:00 a.m. (German time) we offer you a webinar about our master's programme and how to apply successfully for the DAAD scholarship.
You can join via Zoom: https://uni-goettingen.zoom.us/j/66656364926?pwd=UkdyWmlNZmwvbDlXZU44K0dyaC9vZz09
Our application portal for the programme and the DAAD scholarship is open from September 1 until October 31, 2023: https://masterportale.uni-goettingen.de/forst/en/
If you have any questions you can contact goeforestry@gwdg.de