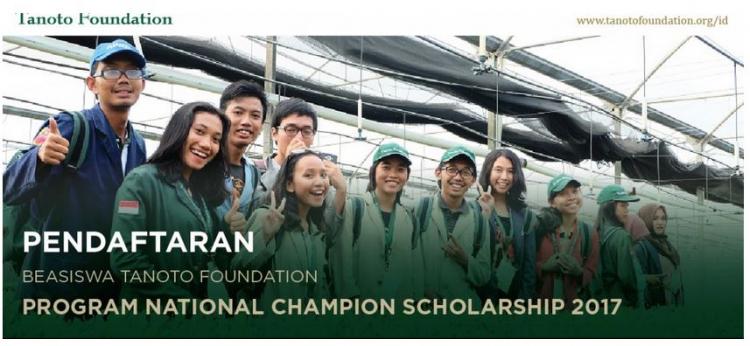 The Tanoto Foundation was founded by Sukanto Tanoto and Tinah Bingei Tanoto as a manifestation of caring for others to tackle poverty. Since 1981, the Tanoto Foundation has strived to become a center of excellence in poverty alleviation through 3 pillars: Education, Empowerment, and Quality of Life.
Within the Education pillar, the Tanoto Foundation implements programs aimed at increasing access to education and improving the quality of education in Indonesia. Within the Empowerment pillar, the Tanoto Foundation implements programs aimed at maximizing the economic potential of individuals, households and communities. In the pillar of Improving Quality of Life, Tanoto Foundation implements programs that support the community, both infrastructure and various facilities for the community to improve the quality of life.
One of the Tanoto Foundation's Educational Programs is the provision of scholarships to outstanding undergraduate and postgraduate students who have leadership potential but face economic obstacles.
For 2017, the Tanoto Foundation provides opportunities to become recipients of Tanoto Foundation scholarships, the National Champion Scholarship Program, to 275 students (250 undergraduate or undergraduate students, and 25 undergraduate or postgraduate students) from various disciplines.
Scholarship recipients will get the following benefits:
Maximum tuition allowance of Rp. 5,000,000 / semester (S1 program) to the 8th semester (eight) or a
maximum of Rp. 15,000,000 / semester (S2 program) until the 4th semester (four)
Living cost allowance of Rp. 600,000 / month (S1 program) until the 8th semester (eight) or Rp. 1,200,000 / month (S2 program) until the 4th semester (four)
Leadership training program and soft skill development
Community service program through the Tanoto Scholars Association
Network development program through Tanoto Scholars Gathering
Counseling program for Tanoto Scholars who experience obstacles in academic achievement
Apprenticeship program at companies incorporated in the Royal Golden Eagle (RGE) group
Opportunity to participate in the Tanoto Foundation scholarship selection program.
Online registration is open from 4 January to 15 March 2017 (http://www.tanotofoundation.org/education/id/2017/01/seleksi-beasiswa-tanoto-foundation-national-champion-scholarship-2017/).
Application Deadline: Wednesday, March 15, 2017